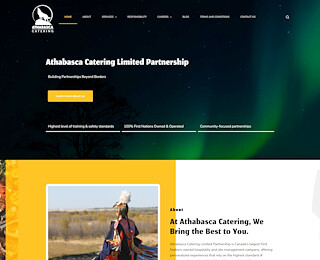 As Canada's largest First Nations-owned hospitality and site management company, Athabasca Catering is a pioneer in remote site management services. Our comprehensive approach ensures that even the most remote workplaces run efficiently, prioritizing the safety, comfort, and productivity of onsite personnel.
While the concept of remote site management may seem straightforward, it involves a complex array of tasks and responsibilities. This article seeks to demystify the process by answering ten frequently asked questions about remote site management.
FAQs About Remote Site Management
What is Remote Site Management?
Remote site management involves overseeing and coordinating all operations at a remote facility. This can include tasks like facility maintenance, catering, cleaning, and security, among other things. At Athabasca Catering, we also offer additional services such as water and waste treatment, power generation, and IT and communication services.
What sets Athabasca Catering apart in Remote Site Management?
Athabasca Catering is a First Nations-owned company with an in-depth understanding of the unique challenges of managing remote sites. Our commitment to safety, quality, and personalized service sets us apart. We also prioritize community empowerment and economic commitment, creating a positive influence wherever we operate.
How do you ensure safety at remote sites?
Safety is our utmost priority. Our staff are trained in first aid, CPR, and AED, and we ensure regular safety training and meetings. Our COR certification, one of the first acquired in Saskatchewan's hospitality industry, attests to our strict adherence to safety protocols.
What type of facilities can you manage?
We are equipped to manage a wide range of facilities, from industrial sites in remote parts of Northern Canada to urban settings like downtown Calgary. Our flexibility and adaptability allow us to cater to the unique needs of each site.
What kind of food services do you provide at remote sites?
We offer comprehensive food services, ranging from providing regular meals to organizing special events. Our culinary team is skilled at crafting diverse, nutritious, and delicious menus, and we can accommodate specific dietary requirements.
How do you handle waste and utilities at remote sites?
We provide remote power generation, water, and waste treatment services to ensure the smooth operation of your site. Our team carefully manages these critical aspects, ensuring environmental compliance and sustainability.
Do you provide communication and IT services?
Yes, we offer IT and communication services to keep your team connected, even in remote locations. Our services include ensuring reliable internet connectivity and maintaining communication equipment.
Can you accommodate staff rotations at remote sites?
Absolutely. Our professional administration and management team ensure smooth check-ins and staff rotations. We aim to make the transition seamless for every member of your team.
What recreational facilities do you provide at remote sites?
We understand the importance of leisure and wellness in promoting productivity. Our services include providing exercise equipment and fitness areas, organizing sporting events, movie nights, and even card tournaments and casino nights.
How do you ensure quality in your remote site management services?
We hold ourselves to the highest standards of quality in all aspects of our services. From sourcing quality ingredients for our food services to adhering to rigorous safety and sanitation protocols, we constantly strive for excellence.
Remote Site Management Services Available Here
At Athabasca Catering, we pride ourselves on our comprehensive, high-quality remote site management services. Our team's dedication and expertise ensure that we meet and exceed your expectations, even in the most challenging environments.